Livestream commerce or live shopping combines the engagement of livestreaming and the ease of online buying. It can drive sales, increase revenue and improve customer experiences. It became even more popular in the Asia Pacific region during the pandemic. The pressing question now is whether this is a passing fad or a significant evolution of ecommerce.
"Our view of livestreaming success is probably skewed because China has huge and focused single platform solutions. It's a market that's hard to break into from other countries. Globally there are many platform choices, making it difficult to centralise audiences in the same way."
Live shopping – how it works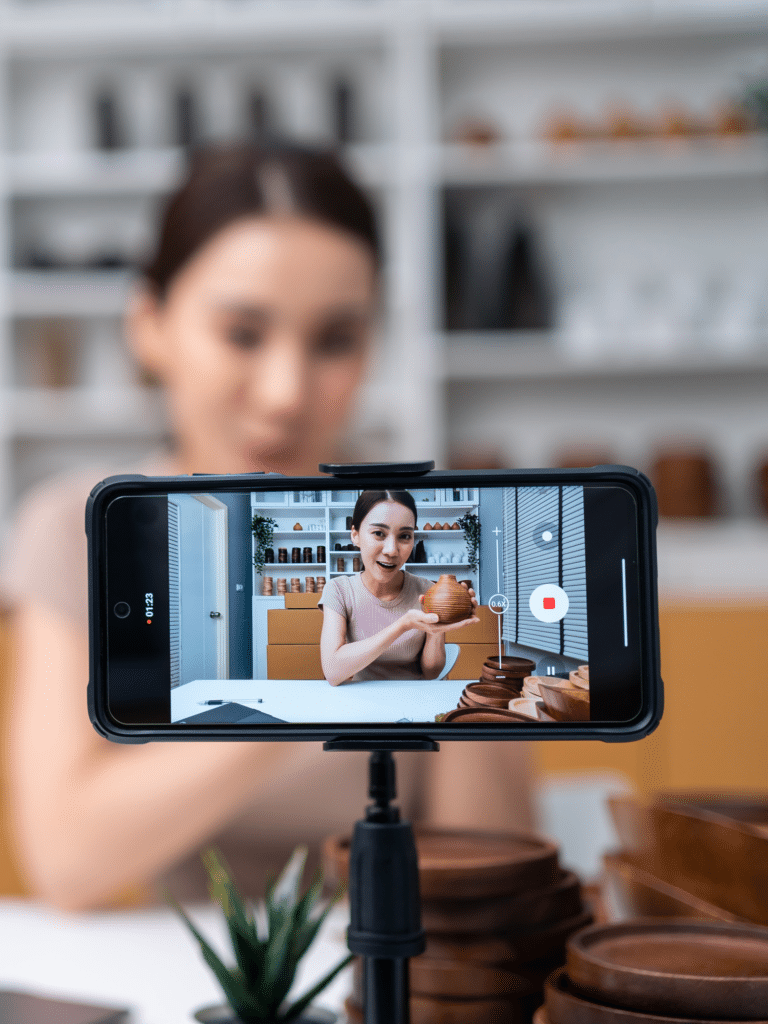 In the 1980s cable-based television shopping channels like HSN and QVC allowed people to buy from home by telephone. Typically, they featured sales presentations, demonstrations and endorsements. Moving on 40 years, China in particular has embraced livestream commerce using smartphones, tablets, and laptops.
It involves showcasing goods and services through live video streaming. Participants can take part in real time and buy without leaving the live event. Audiences watch product showcases and text-based calls to action with time-limited deals appearing on screen. Purchases are almost instant and products can sell out in minutes.
To attract an interested and active audience live streaming usually involves recognisable brands and well-known influencers and celebrities. The combination of livestreaming, social media platforms and online transactions is creating more interactive and immersive shopping experiences. It allows creators, influencers and small businesses to generate income from content and build their brands.
In a recent study across the South East Asia region almost half watched a livestream channel at least once a week. However, Tik Tok Shop, which launched in Indonesia in 2021 is facing challenges. There's controversy over blurring boundaries between social engagement and online sales. Just a few weeks ago (September 2023) the Indonesian government banned selling on social media platforms. Other countries in the region are expected to follow this lead.
Popular Social Media platforms equipped for in-channel shopping across Europe, Latin America, and USA include Facebook, Instagram, YouTube, Amazon and, recently, TikTok. In Latin America, seven out of 10 frequent livestream commerce shoppers use
Livestream commerce in Asia
The growing popularity of livestream commerce in Asia is largely due to the high penetration of smartphones and a young audience profile. Livestreaming engages the audience and simulates in-store shopping experiences that weren't possible during the pandemic lock downs. Brands, retailers and influencers can all collaborate to deliver enhanced user experiences in real time.
The trend started with Alibaba's Taobao Live, but others like Douyin Mall and Pinduoduo quickly caught up. In China alone the market has grown from 120 billion yuan (£1.35billion) in 2018 to an estimated 3.49 trillion yuan (£39.2billion) in 2022. It's especially popular on key sale days across Asia like Singles Day.
China's southern equivalent of Silicon Valley in Shenzhen takes the trend seriously. It plans to attract over 3,000 live streamers to the region by 2025.
The most mature market is Douyin, a sister app to TikTok. It's used by more than eight out of 10 frequent livestream commerce users. Taobao Live is used by around six out of 10 live shoppers. There are indications of a continuing and significant regional shift in customer preferences from traditional ecommerce experiences to live streaming. However, the financial picture is challenging. The gross merchandise value (GMV) for all Alibaba's ecommerce platforms including Taobao and Tmall fell by 7% last year. In contrast, Douyin's GMV increased by more than 75%.
Luxury brands like Louis Vuitton have explored the opportunities live shopping can offer. Their first hour-long livestream on China's Little Red Book (Xiaohongshu) channel generated over 150,000 page views.
The latest development from Taobao Live in June 2023 is the introduction of tips or rewards that audiences can give to high quality content creators. This is likely to lead to increased competition between sellers to attract the most engaged audiences as well as sales.
Live shopping isn't taking all of Asia by storm. It's worth noting that almost a quarter of the population in the Asia-Pacific region doesn't have an account with a financial institution. Japan, for example, remains largely cash based. Although on the increase, credit and debit card use is still low, compared with other countries. Convenience store shopping is still more popular. Goods ordered online are delivered to local stores where payment is made in cash before they are collected.
Types of live shopping event
Demonstrations are an ideal way to highlight a product's features, functions and benefits. Often presented by the brand owners or influencers in the sector, they show how the product is used and answer customer questions.
Interactive Q&A sessions help to create trust and build communities of product ambassadors. Conversations with target audiences can take place in real time and sellers can receive suggestions and instant feedback.
. The key to advice sessions is familiarity and audience confidence in the presenters' knowledge. They can give industry insights, product recommendations, or gift ideas, for example.
Live shopping conclusions – commerce fad or evolution?
Tanya Peasgood says: "Livestreaming commerce has potential as a powerful tool to improve engagement and build brand trust and loyalty. Before making a strategic commitment to live shopping it's important to define your objectives clearly. This will help create achievable goals. There isn't any immediate evidence this trend is threatening existing ecommerce channels and brick-and-mortar stores around the world.
"At this stage of development distinct regional market differences affect the likelihood live shopping will expand as rapidly outside Asia. Some Asian countries are already expressing concerns about the fusion of channels. It's not yet clear whether merging ecommerce, social media and entertainment is appealing or viable in markets worldwide."
Smaller independent retailers might want to experiment with livestreaming commerce as part of their marketing mix, especially for young target audiences. Live shopping might also be worth exploring as a tool to improve product discovery and search results. Popular markets are likely to remain household goods, fashion and cosmetics. For European or US companies entering markets in Asia now is a good time to search for local brand ambassadors.