Williams Commerce is proud to have worked with Robert Lee for a number of years now.
As the UK's largest distributor of bathroom, kitchen and plumbing products supplying retailers, merchants and showrooms all across the UK, the Robert Lee business has established an incredible network of dozens of the most popular and best-selling manufacturer brands within the industry.
Robert Lee has also established their own bespoke ranges of bathroom brands, one of which includes the Trisen Brassware brand.
In the latest marketing initiative in July 2020, Robert Lee has created and launched their new brochure style website for the Trisen Brassware brand, with the objective to bring this brand to life, supporting their retailers in showcasing the brand and providing another way for shoppers to discover the brand and locate their nearest stockist. 
The Trisen Brassware website is a brochure website built using the latest Magento OpenSource 2.3.5 technology. Magento is the ecommerce platform of choice powering Robert Lee's full suite of brands. Magento gives Robert Lee the multi store functionality they need to run all their brands on one Magento instance but with multiple front ends which all have their own unique domain. 
Specifically, Magento's versatility in catering for multi-store capabilities allows Robert Lee to cost effectively use a single source of integration (in this case Microsoft Dynamics Nav), feeding multiple, independent site fronts.  
Rather than extend Microsoft Dynamics Nav, Robert Lee also used a third party PIM (Product Inventory Management) system as an additional software to host a complete product database set of information.
Williams Commerce integrated the chosen PIM system to the Magento 2 website enabling Robert Lee's full data assets to be available across all Magento websites. In this specific instance, the integration enables the systems to work together to flag up the correct brand data to serve up to the correct multi-store, reducing errors and creating smooth efficiency from these automated back-office operations for Robert Lee.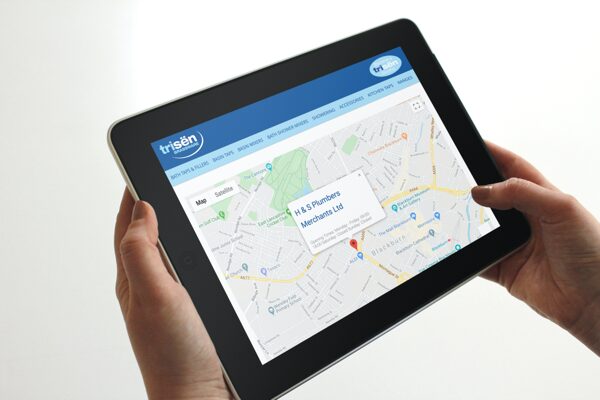 The Trisen Brassware website features a product based navigation, guiding visitors to a catalogue where they can access specific product information and RRP pricing. 
Browsers can carry out actions, including Request a Brochure and Find a Stockist to complete their journey. 
In an ever-evolving digital environment, manufacturers increasingly forming direct relationships with consumers, this approach by Robert Lee helps drive innovation and brand recognition.  Enabling them to continue to support their retailers by helping build the brand online, showcase the most up to date product catalogue digitally, whilst also driving traffic via this brochure website to their retailers is all helping to build further demand for the brand. 
Daryl Catanach, Marketing Manager at Robert Lee says:
"We've come to rely on the Williams Commerce team, who have particular expertise in the B2B sector, to help advise and support our growing digital agenda. The web-build was straightforward and the Williams team a pleasure to work with. We are delighted to have created an online destination for our Trisen Brassware brand and Magento 2 with its multistore versatility and ERP/PIM integration capabilities offers us a really solid foundation on which we can continue to evolve our online strategy."