Since its establishment in 2010, Fine Food Specialist has developed a
fantastic reputation in the culinary market. Foodie consumers, caterers and talented chefs choose to shop with Fine Food Specialist thanks to the company's exquisitely curated range of hard to find ingredients, exceptional customer service and a reliable online presence. 
Wanting to begin a new digital chapter and deliver a heighted customer experience, the company opted to begin a project to create a new website built on the Magento 2 Open Source ecommerce platform. Having worked with the Williams Commerce marketing team for a number of years across Paid Search, SEO and Social Media Marketing, Fine Food Specialist founder and owner Drogo Montagu entrusted us with delivering this new website.
Challenges
Replace dated Magento 1 site with the latest version of Magento 2 before Magento 1 end of life.
Reduce number of legacy modules and systems to improve site performance, whilst integrating next generation third party software tools to aid UX and conversion rate performance.
Massively improve mobile usability and performance, in line with demand for increasing demand for shopping on mobile
Evolve current branding and site design to appeal to growing database with new user demographics
Provide a robust, secure foundation for the business on which to continue its double digital growth trajectory online.
Solution
Magento 

2 platform

Contemporary new brand guidelines created for the business

, along with detailed mapping out of customer personas.

A stunning, high impact new site design, resulting from a series of preliminary discovery UX and data analysis workshops.

Third party integrations with payment providers Braintree and Paypal, Dotmailerfor email marketing, Feefo for reviews and Klevu for search.

Microsoft Dynamics Integration with Shipper HQ

Seamless SEO migration from Magento 1 to Magento 2fully managed by the Williams Commerce Digital Marketing team.
Results
For the period since Go Live on 10 June 2020 to 30 September 2020 versus LY.
Users 

+32%

 and new users 

+34%

Bounce rate improved by a massive 

+62%

 to 

an enviable 

22%

 

indicating great visitor engagement

Average session duration improved by 

29%

 

Overall e

commerce conversion rate 

+32%

 with mobile conversion 

+48%

Overall Transactions 

+81%

Overall Revenue 

+133%

 with organic Search revenue up 

+108%

Mobile Revenue 

+176%
What we delivered
We delivered
Retail Ecommerce
We delivered
Customer Personalisation
We delivered
Systems Integration
We delivered
Data Migration
Quality Ecommerce
Built on Magento 2.3.3, Fine Food Specialist now has a website with the ability to provide enhanced personalisation thanks to Nosto integration. New blogging and recipes platforms also formed part of the project, with the Mageside Recipe Module and Amasty Blog Pro enabling a heightened experience for site visitors. 
Other features include Microsoft Nav Integration, a complex delivery structure with Shipper HQ, a swish new site aesthetic thanks to our expert design team, and perishable product functionality including a countdown clock – something really advantageous for a retailer like Fine Food Specialist. All data from Fine Food Specialist's Magento 1 site was migrated over to the new Magento 2.3.3 website, and modules such as Dotmailer, Feefo and Klevu all add to the overall customer experience, as do payment options like PayPal and Braintree.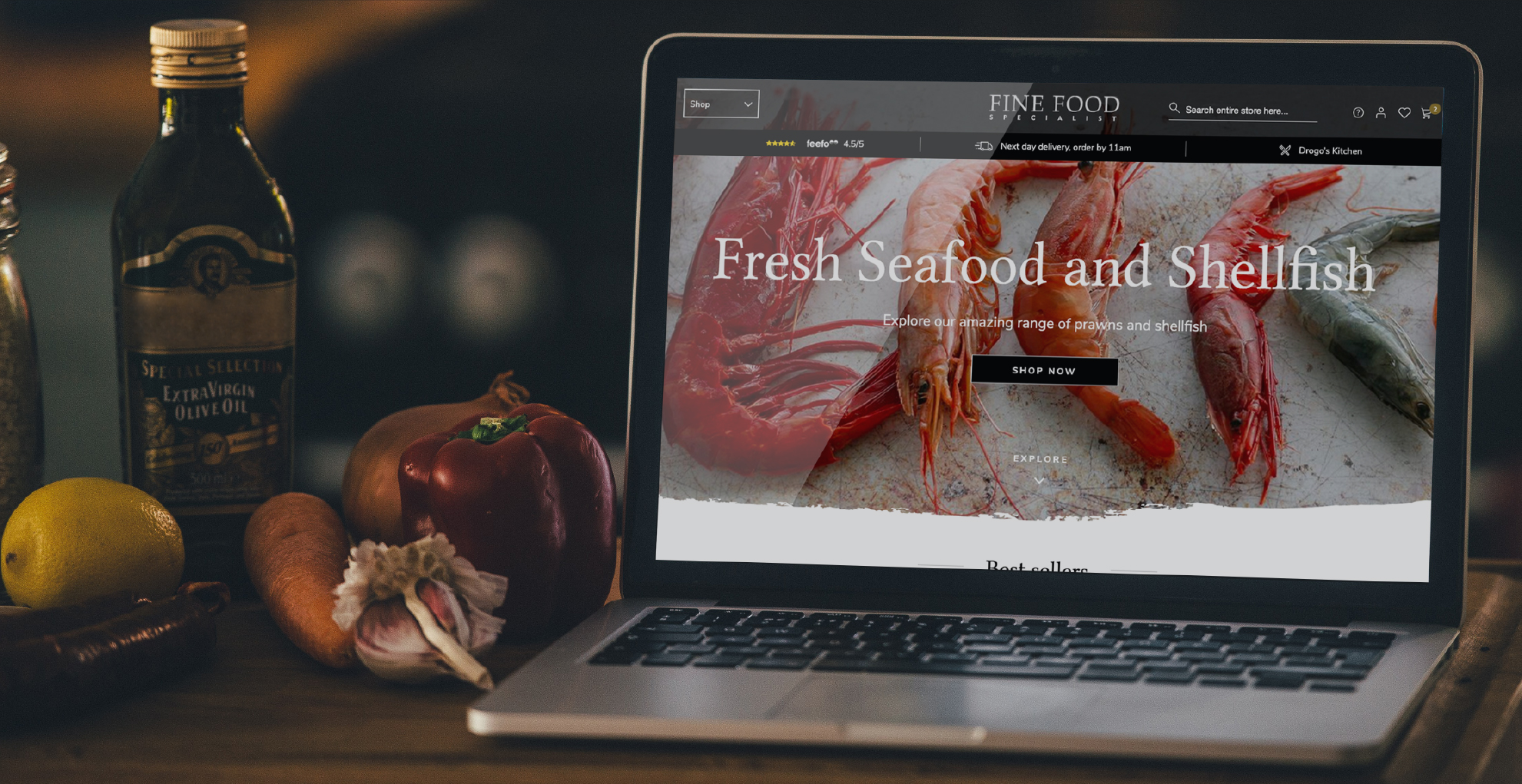 A Delicious Design
With so many appetising and delicious products available, the Fine Food Specialist site now lets imagery do more of the talking. Images are central to category and product tiles throughout the site, but text appears upon hovering over a certain product or category. This gives site visitors all the information they need to understand what is available in detail. 
Certain images, such as those on the homepage, also have subtle textured elements. This reflects the subtle texture of Fine Food Specialist's products. 
A sticky header is included across the site. It is transparent upon page load, but changes to white upon scrolling. This makes it less intrusive and keeps the focus on the site's beautiful imagery. Additionally, this header features a condensed product range list within the 'Shop' button, making the shopping process more streamlined.   
Our design team also worked with Fine Food Specialist in the early stages of the product to update the company's branding, with new fonts and colours used. Gold now acts as the accent colour across the new website, and is present at various points, including calls to action and hover states. This colour choice reflects the luxury premium standards of Fine Food Specialist's products. 
Drogo's Kitchen
One excellent element of the new site is Drogo's Kitchen. Featuring a series of specially chosen recipes from Fine Food Specialist founder and chef Drogo Montagu, this part of the site not only provides visitors with fantastic recipe ideas, but makes it easy to purchase all the featured products and create brilliant meals.
Visitors can read the recipes, see what takes their fancy, and then easily buy all the required products and prepare their meal in the comfort of their own kitchen.
This is a customised module, with specific icons that enhance usability and the appeal of the design.
Mobile Usability Advantages
The site also has an excellent mobile design, enabling easy use and accessibility across devices.  
One feature is rather than a sticky header on mobile as there is on desktop, there is instead a sticky search bar. This means customers can quickly and easily come back to the search function and browse for desired items with ease. There is also a sticky add to basket capability on product pages, meaning that the basket is always accessible for customers to view, add to or revise. 
AFTER
BEFORE