Having disconnected, disparate systems within a business can be a burden and hinder efficiency. Valuable information can be hard to access, becoming an inhibitory factor when it comes to creating efficient work processes.
For busy retail organisations, having a true oversight of your operations is a big plus. This makes it easier to meet demand, match expectations and fulfil the needs of your customers.
Prima Solutions offers a selection of apparel software aimed at helping companies streamline processes, be more efficient, make better decisions and ultimately grow their business.
Prima's solutions include multi channel ERP offerings. This includes application support around features such as warehouse management, product development, order management and more.
Channel support for ecommerce, retail management and more is also available, while system support around customer management and CRM, as well as financial and document management is also offered by Prima.
For fashion brands, lining up the capabilities and possibilities that Prima's solutions present with their Magento ecommerce platform can bring a host of benefits to their online store. This is where Prima Magento integration comes in.
How Does Prima and Magento Integration work?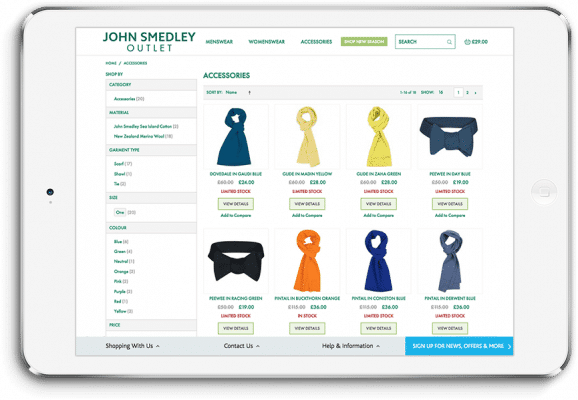 Connectivity through the Prima and Magento APIs on Magento 2 means real time integration is possible.
At Williams Commerce, we offer direct integration, or integration through our MiddleWare hub. The latter is more suited to larger B2B implementations.
Williams Commerce offers Magento Prima Integration with options for businesses including Retail, B2B, Multi Company and Multi Site.
We can draw on a host of Prima Magento integration projects as testament to this being a strong route to go down or fashion businesses.
We've worked with the likes of Shires Equestrian, John Smedley, John Smedley Outlet, Start-Rite, Gymphlex and Grahame Gardner to deliver game-changing Prima and Magento integration for these leading fashion brands.
Innovate through Integration
Our Prima Magento integration offering is one of a number of integration options we have available.
Depending on the requirements of your business, we can offer:
Our team of integration experts can provide you with all the advice and guidance you need.
Get in touch and let's work together to improve your business's efficiencies and effectiveness.