Earlier this year, Williams Commerce made the move to a new office in Leicester City Centre – 64 Mansfield Street.
With ample space and a great city centre location, this former industrial building was deemed perfect for our new home and the ideal base from which to grow our digital marketing and ecommerce business.
As work to get the building into the perfect shape to house our company has taken place, we came across something rather interesting – an old painted advertisement on what was formerly an outside wall now covered by an extension that was added to the building in the last few decades.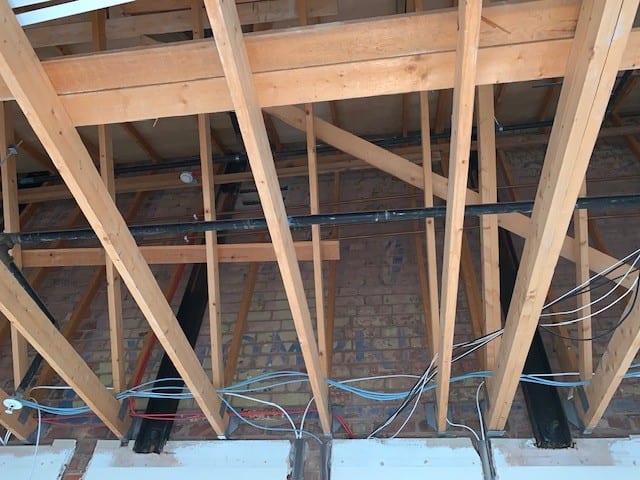 This got us thinking. We knew our new home was an old industrial building, but who owned it and what was its original purpose?
We decided to take a look into the history of 64 Mansfield Street, Williams Commerce's new home.
According to the insurance records of 1892, the site of what is today Williams Commerce was occupied by a series of houses that would have fallen under the 'slum' bracket. The building stands on land previously used as stables and a court of houses. This was Court C, Mansfield Street, which appears to be a row of 7 cottages lined along a communal yard.
As well as the aforementioned stables, Mansfield Street at this time was home to a Malt House, Saw Mill, Boot Factory and Timber yard, as well as many dwellings and the Floral Hall, which was demolished in the 1960s.
A photo of Mansfield Street in the early 20th century. The three story building on the left hand side at the far end of the street is still standing and forms part of our new offices. Thanks to Ned Newitt, author of The Slums of Leicester, for this photograph.
By the early 1900s, Tompkins, Spence & Co Boot and Shoe Manufacturers are listed at 64 Mansfield Street in the local directories, suggesting that the first part of the building that we know today was built in the late 1890s or around the turn of the century.
Tompkins, Spence & Co soon became Tompkins & Son, and specialised in the creation of ladies and children's medium grade footwear and high grade melted shoes.
The company had a strong export business, with their products being well-known in countries as far away as South Africa, Australia and New Zealand. Tompkins & Son was also on the list of government contractors. This meant the firm produced large quantities of boots and shoes for the British and Allied governments.
The building was extended in the mid-1920s, giving it the distinct L-shape it keeps to this day.
W Tompkins & Son were still listed at 64 Mansfield Street in 1960, though it appears they ceased trading shortly after this.
Since then, many companies have called the building home, before Williams Commerce took over earlier this year.
Not only does this fantastic space provide us with a great place in which grow to our business, but it's also exciting to help contribute to the urban regeneration of Leicester City Centre.
There has been plenty of redevelopment work in the City in recent years. Prime examples include the Curve theatre and Phoenix Cinema, as well as a host of other residential and commercial projects across the city.
We're delighted to call a building with such historical interest home, and hope that by repurposing such spaces for modern business use, we can help contribute to the wider regeneration currently taking place within Leicester City Centre.
Keen to learn more about our digital agency, get in touch with Williams Commerce today.