Conversion rate optimisation is a buzzword that you must have heard so many times recently, and rightly so.
When people buy a house, they decorate it to their taste. After a few years, they may get tired of the sofa and want to explore new colours. Websites are not different at all. They need constant improvements and work being done to keep them up to scratch with not only user needs, but competition.
There are times where the website may not be converting at all and you may be throwing discount codes, freebies, and all types of promotions at it, but everything stays the same and that potential customer does not convert. This is when you need a conversion rate optimisation strategy to increase conversions on your website.
But needing a conversion rate optimisation strategy is one thing. You also need to get it approved. With senior decision makers in charge of budgets, you must prepare a compelling case to proceed with the strategy and get approval. We're going to run through some of the top tips to get you started.
Identify Key Decision Makers Who Need To Approve Your Conversion Rate Optimisation Strategy
Understanding who needs to approve the cost and strategy is important as it saves you time from waiting for approval and having your document being passed around different managers or departments. Chances are, budgets have been allocated from the beginning of the financial year so it may be hard to get approval straight away if you are 6 months in.
You need to get the decision maker on board so that when the strategy is ready – they will read it and be amazed at the insights you have provided.
Gathering Your Data For The CRO Audit
The main question you need to ask yourself is "Can I build a strong case showing the amount of revenue we could be generating?". To do this, you'll need to have some data at hand, which can be sourced from an analytical tool such as Google Analytics.
The best way to get the data is to prepare a report highlighting areas where money was lost.
There are different ways to do this but if you learn some key rules in relation to regular expressions (regex), you can make your life easier. This lets you group product pages or category pages together to collect data on behaviour.
If you have Enhanced Ecommerce configured correctly, you can create segments based on where users drop off in their journey. Enhanced Ecommerce is a different version to the standard Ecommerce tracking that is in Google Analytics.
You get richer data from the offset and it allows you to make better decisions from detailed insights as part of the conversion funnel. You'll know if you have Enhanced Ecommerce if you have added layers within your reporting tab in Google Analytics.
The key areas in the Enhanced Ecommerce view are Shopping and Checkout Behaviour. Shopping Behaviour is an all-round funnel that shows activity from Session views all through to the checkout.
Checkout behaviour is different as this only focuses on sessions relating to the checkout, which is from checkout initiation to a completed purchase.
It varies between websites as checkout steps are different, so this needs to be configured with care on the steps a user takes when they enter the checkout process.
The data from these reports helps identify areas of importance, so if you are building a case on why you need a CRO strategy, you can use these to identify areas that are of concern. Creating a segment to help you get more data is simple.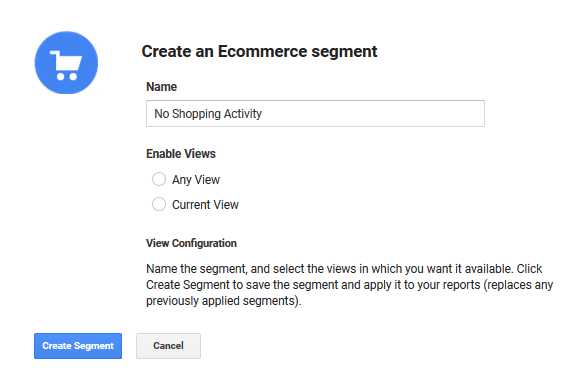 You can then use this segment to look at exit pages, source / medium, device usage and more. If you are not an Ecommerce Store and you focus on registrations, create a goal in Google Analytics instead and create the steps required to perform the goal.
After that, go into the Funnel Visualisation report to see where users are dropping off for further investigation.
Create A Conversion Rate Optimisation Revenue Gap Analysis
Once you have collected your data, categorise it by order of priority. What pages are being visited the most? What pages are not converting? Which pages have high dwell time but no progression? What pages are people exiting from?
Use this to identify these areas and compare to those pages that are converting. Create an individual funnel conversion path and start adding in numbers and projections. For example, if you could get 10% more people to add to the cart, what is the likelihood people will convert?
This stage is powerful as you realise the areas that will bring in the best return on investment. Once you have the projections, it's time to compile the data together. To add more strength into your report, consider getting a heatmap tracking tool installed on your website.
Hotjar is a great tool that has a free version. Although it is limited in what it can provide, it is ideal in getting some data to build a case. Their paid plans offer much more and prices start from $29 a month.
Time to Request a Meeting
Everything is ready, data has been captured, areas of interest identified, now it's time to present it. Although you may have created a stunning Word and Excel document, it's best to have it in a brief, presentable form, so yes, you've guessed it – 5 or 7 slides on a PowerPoint presentation should be enough.
However, I cannot stress this enough, you need to show the risks of not proceeding with the strategy. The areas you've uncovered should grab the attention of your decision makers so make sure you keep it short and simple, not long and lethal (KISS not KILL).
When marketing budgets and strategies are planned, the marketing team tend to look for budget around SEO and PPC (search engine optimisation and pay per click) to aid their marketing plan. What most marketers fail to understand is that Conversion Rate Optimisation influences all channels and is not exclusive to only one marketing campaign. This should be highlighted in the report and presentation.
Within the report they would want to know the next steps. Do you do it yourselves? Or do you hire a Conversion Rate Optimisation agency that can help? This is where you need to discuss budgets available, as well as what can be done internally and what should be outsourced.
A hybrid marketing model can work effectively, as both sides are analysing the data and the agency would normally be responsible for setting up the experiments, monitoring and reporting on them.
You could use the initial findings to give the Conversion Rate Optimisation agency a brief on what you have found on the website. This leaves them with the chance to dig much deeper using tools such as Google Tag Manager to tag the site up and monitor behaviour on a granular level.
An experienced Conversion Rate Optimisation agency should be able to set up split tests with ease, configured correctly to use the laws of statistics to get clear results.
A Conversion Rate Optimisation strategy should be a critical part of any digital marketing strategy for a company. However, decision makers must be convinced that the investment required will bear positive fruits.
If you would like to know more of what we do or want to learn how we can help you build a winning website through a full CRO strategy, get in touch with the Williams Commerce Team.